Hi everyone! This weekly wrap-up is sort of a two-weekly wrap-up. Since I was on vacation last week, I wasn't able to post one. So, I will try and catch you up with everything that has been going on in the past couple weeks!
First, I wanted to tell you all about an interview that I did for the
Zazzle Fantasy Art Blog
. This blog promotes Fantasy Artists on Zazzle, so I was thrilled at the opportunity to be a featured artist and do an interview for them. They asked me all sorts of questions about how I got started doing fantasy art, my artistic training background, my painting process, and much more. They also featured several items from my Zazzle store and a few of my favorite paintings. They posted it in two parts, so be sure to read Part 1 followed by Part 2, both linked below. I hope you all enjoy it!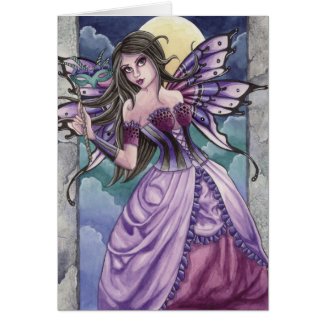 Karmina Fairy Card - Zazzle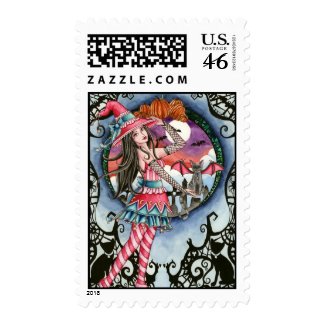 Aelita and Jax Postage Stamp - Zazzle
CILM has released a brand new tube pack of my artwork. This pack includes my lighthouse mermaid Gwynth, my ocean mermaid Kari and my Art Nouveau fairy Rose! You can purchase the pack of three images for only $5.00.
You can also purchase them individually for $1.85 each!
Also, keep in mind that if you're new to purchasing my tubes, you can purchase the whole set at a greatly reduced price. Right now they're offering all 13 tube packs (39 images) for only $52.00!
These tubes are fantastic for graphic lovers, because you can use them on so many different things such as avatars for Facebook and Myspace, e-cards, signatures and more!!
I wanted to let you all know that I have selected a name for my latest painting, the pumpkin witch. I chose the name suggested by Amber Schultz, Zoe! I thought it fit the piece perfectly: fun, flirty and cute, just like the witch in the painting. Amber will win a 5x7" print of the finished piece. Thanks to everyone who participates in my naming contests and there will definitely be more in the future!
I wanted to show you Zoe with clean lines that I created in Photoshop. I create these clean lines from my rough sketch. The lines are used to transfer onto my watercolor paper for the final painting. They are also used for my coloring pages and for my rubber stamps. While time consuming, they are extremely essential to my whole painting process! I hope you all enjoy Zoe. I will hopefully be painting her soon.
I also wanted to show you all my latest sketch! This is a commissioned piece and will be named Tracey. My customer requested a purple fairy with cats. The color purple, fairies and cats...being three of my favorite things...I just couldn't say no! I came up with a fairy sitting on a mushroom with three fairy kitties all around her. This was a fun one to sketch and will probably be an even more fun one to paint! I hope to be painting her this week as well along with my pumpkin witch.
The original is of course sold, but she will be available on all my prints and products and will be submitted to all of my licensing companies!
During my last wrap-up, I told you all that I was going on vacation to The Wizarding World of Harry Potter! So, I just wanted to take some time to show you a few pictures and tell you a little bit about it. Make sure to visit my
Facebook page
for all the pictures and information if you're interested!
This Hogsmeade sign was the first thing you saw upon entering The Wizarding World of Harry Potter! The Harry Potter section is actually just part of a much larger Universal Islands of Adventure Theme Park. The Harry Potter section is decently sized, but of course I wished it was much bigger!
Once you walk through the Hogsmeade sign, you see the Hogwarts Express which takes you on your magical journey! It doesn't actually move, but still blows smoke and makes noises. It was very cool!
After that, you get to walk through the town of Hogsmeade! They have all the stores from the books like Honeydukes, Zonkos and Dervish and Blotts. Those are the only stores you could go inside, but they had a lot of other stores that were "closed" but had really awesome storefronts. They also had an Olivanders that you could go inside and there was this little show where they picked one child who got measured for a wand. It was really cute. The stores spared no expense and had pretty much everything in the books! Honeydukes had Chocolate Frogs, Ton-Tongue Toffee, Acid-Pops and Bertie Botts Every Flavor Beans!
I loved the way they designed Hogsmeade with snow covered roof tops. They even had really cool crooked chimneys. The signs all looked old and aged...just like you would imagine!
After that I had to get a Butterbeer! They had a few Butterbeer stands, but the one I posted above was by far the coolest. It looked like a giant keg! I stood in line for about 30 minutes to get my Butterbeer and that is me in front of The Three Broomsticks enjoying it! They said it tasted like a combination of shortbread and butterscotch...I thought it tasted fairly similar to a Cream Soda. Then they put this marshmellow-tasting foam on top. Yummy!
By far my favorite part was the castle, which was massive and beautiful! This is a picture of my husband and I in front of the castle. And there was actually a ride inside! But the best part was (as silly as this sounds) standing in line for the ride. They built the whole inside of the castle, greenhouse, passageways, classrooms, dormitories, wall of portraits...everything! And when you were standing in line, you wove your way around the inside. The first time we went on it, the line was too short and we zoomed through. So we had to go back and check it out when there was like a 45 minute wait to be able to enjoy it all! Below are a few pictures from inside the castle.
All in all, it was an amazing vacation and a wonderful way to celebrate my 1 year anniversary with my husband! I think it is a must-see for any Harry Potter fan. I can pretty much guarantee you will not be disappointed!
Have a wonderful week everyone! I hope to get some actual painting done this week, so I have some fun things to show you next week. =)